WOMEN'S YOGA & CHANTING
DAYLONG RETREAT :
Finding the Voice Within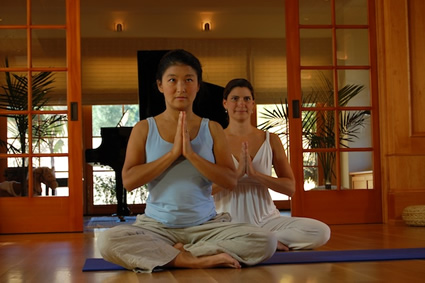 Join us for a nourishing day of yoga, chanting, walking through the Redwoods, hot tub time, organic food, and lovely women!

Skyote Mountain is located in the Santa Cruz Mountains just a few minutes outside of Scott's Valley. This straw bail center is all solar powered with radiant heat floors and a gorgeous, light filled yoga studio.

Jackie Long will lead us through a 1.5 hour gentle flow yoga class and 1.5 hour yin / restorative yoga class. Heather Houston, singer / songwriter, yoga teacher and vocal instructor will guide us in soulful, heart opening chanting. Heather teaches private voice lessons, offers healing sessions, leads singing circles and conducts the 15 voice choir, Women with Wings. She is as gifted at leading hundreds of people in singing or chanting together harmoniously, as she is at guiding a single student in discovering the intricacies and nuances of their own voice. Selene Vega is our delightful hostess who will put out tea and snacks and make us a wonderful, organic, vegetarian dinner.

In addition to practicing yoga and chanting, there will be time to hike, reflect, journal, connect and share. So please bring your journal if you have one. We hope you can make it to this special day!

This event has filled up each time Heather has offered it, so please register early to reserve your space.

Where:
Skyote Mountain Center
Santa Cruz Mountains, CA

When:
Sunday, August 15th, 2010 ~ 9:30 to 8:30pm

Instructors:
Jackie Long
Jackie Long has been teaching yoga and meditation in the Bay Area since 2001, and has been offering workshops and retreats internationally since 2004. In 1999, she lived in a Buddhist Monastery in Thailand for a few months, practicing Insight Meditation with her teachers, senior monks, Ajahn Nayanarato and Tan Ajahn Gavesako. Her teachers also include Swami Vimalananda (Integral Yoga), Sarah Powers (Insight Yoga) and Judith Lasater (Restorative Yoga). Jackie is also a Marriage & Family Therapist and offers counseling in her private practice in Los Altos. With a Neuropsychology degree from Princeton University and a Counseling Psychology degree from the Institute of Transpersonal Psychology, Jackie bridges East-West wisdom seamlessly in each of her classes.
Heather Houston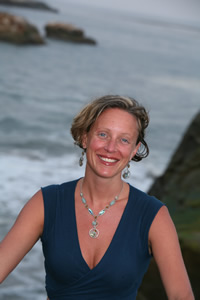 Heather is a natural born singer, songwriter, performer, conductor, teacher, healer, and group facilitator.

As a singer, songwriter we have most recently had the pleasure of experiencing Heather's soulful voice with her a cappella quartet SIRENZ and her trio Dis Moi. Long before the inception of this trio, Heather refined her ear with numerous small a cappella ensembles, some of them being Sound Advice, a 6-voice jazz ensemble; Madrigaia, a 5-voice early music ensemble of Italian Madrigals, French Chansons, and English Motets; Nectar, a 6-voice ensemble of Balkan vocal music. Vocal harmony has always enlivened Heather's spirit. She sang in harmony with her mother from the time she was 4 years old, and since then has sought out every opportunity she could to blend her voice with others.

As a soloist, Heather has sung lead vocals for Latin bands Soulita and Havana Jazz. For five years she sang jazz professionally with the Steve Abrams trio, and has played numerous lead roles in musical productions. In College she studied Classical Vocal Performance, Social Work, and Spanish, receiving her B.A. Degree from Pacific University in 1997.
Rates:

$145 Early Registration (before July 15th), $170 (after July 15th)
Registration:
This event has filled up each time Heather has offered it, so please register early to reserve your space!
To register, please email Jackie Long at
Jackie@yogawithlove.com

If you have any questions about the workshop, please feel free to send an email to Jackie at: jackie@yogawithlove.com