YOGA & MINDFULNESS ON THE BEACH
Practicing yoga on the beach has been one of the most fulfilling experiences of my life. There is something about reaching up into the infinite sky, breathing out across the vast ocean, and grounding my feet into the shifting sand that speaks to me. As Pablo Neruda writes, "I need the sea because it teaches me." It reminds me that whatever it is I am feeling, whatever it is I am going through, there is a vast spaciousness that holds me, and I no longer feel so lost or alone. When I breathe in the ocean air and hear the pounding waves, I feel the vitality renewing within me and become more aware of the rhythm of my own heart. I feel more in touch with myself and more a part of the interconnected web of life. As I more palpably sense the presence of something far greater than me, I realize that whatever it is I am faced with, I will make it through.

So if you, too, love the sea, I'd like to invite you to join me in practicing yoga on the beach on Saturday, September 10th for a 3 hour Yoga & Mindfulness Workshop in Half Moon Bay.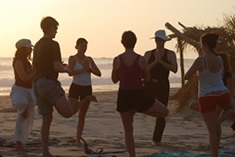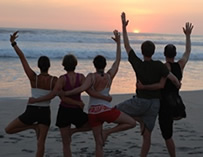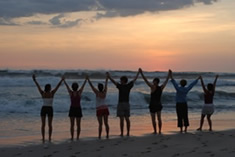 Where:
Beach Location will be sent via email upon registration
When:
Saturday, September 10th, 2011 ~ 10:00am to 1:00pm
Instructor:
Jackie Long Jackie Long, E-RYT is an experienced registered yoga teacher, with over 14 years of experience in the practice and application of yoga and meditation. She offers workshops and retreats locally in California and internationally. In 1999, she lived in a Buddhist Monastery in Thailand for a few months, practicing Insight Meditation with her teachers, senior monks, Ajahn Nayanarato and Tan Ajahn Gavesako. Her teachers also include Swami Vimalananda (Integral Yoga), Sarah Powers (Insight Yoga), Judith Lasater (Restorative Yoga), John Firman and Ann Gila (Transpersonal Psychology). With a Neuropsychology degree from Princeton University and a Counseling Psychology degree from the Institute of Transpersonal Psychology, Jackie bridges East-West wisdom seamlessly in each of her yoga classes.
Jackie is also a Licensed Marriage & Family Therapist and offers counseling psychology in her private practice in Los Altos. She considers it a great honor to support people on their path of relating to themselves and others more authentically.
Cost:
$55 Per Person
Registration:
To register, please contact Jackie Long at
jackie@yogawithlove.com
.