Ever wanted to learn how to surf? It's never too late to try. My own parents had their first surf lesson in Bali at the age of 65 years old! If they can do it, so can you!

Come spend a day in the company of other Bay Area yogis as we dive into the experience of beginner's mind together, in a supportive community. We will spend time practicing yoga on the beach, preparing mentally and emotionally for your surf lesson, learning to surf with some of the Bay Area's best surf instructors, playing some get-to-know-you games, and having some good, clean fun in the sand, sea and sun. This day will weave together three of my favorite things: beach yoga, surfing, and good friends! I hope you'll consider joining me for the Yoga & Surf Play Day in Santa Cruz with my good friend - yoga teacher, Qi Gong instructor, surfer and lover of life - Kristen Lansdale!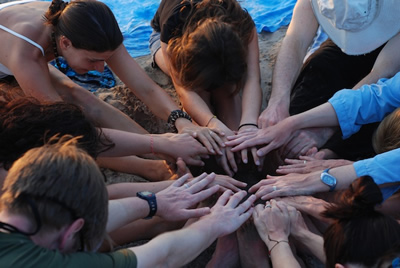 Where:
Santa Cruz, CA

When:
Sunday, July 11th, 2010 ~ 9:00 to 4:00pm

Instructors:
Jackie Long
Jackie Long has been teaching yoga and meditation in the Bay Area since 2001, and has been offering workshops and retreats internationally since 2004. In 1999, she lived in a Buddhist Monastery in Thailand for a few months, practicing Insight Meditation with her teachers, senior monks, Ajahn Nayanarato and Tan Ajahn Gavesako. Her teachers also include Swami Vimalananda (Integral Yoga), Sarah Powers (Insight Yoga) and Judith Lasater (Restorative Yoga). Jackie is also a Marriage & Family Therapist and offers counseling in her private practice in Los Altos. With a Neuropsychology degree from Princeton University and a Counseling Psychology degree from the Institute of Transpersonal Psychology, Jackie bridges East-West wisdom seamlessly in each of her classes.
Kristen Lansdale
Kristen Lansdale
is a certified yoga teacher with over ten years of experience in the practice and application of yoga techniques. She specializes in yoga for the office, yoga therapy, outdoor yoga, and medical Qi Gong. Having taught a wide variety of ages in many different settings, Kristen has seen how yoga promotes an inner sense of harmony and balance, benefiting the individual, the collective group and the community at large. She has an undergraduate degree from Stanford University and has lived abroad for extended periods in Greece, Spain and South America. Kristen is currently pursuing a doctoral degree in medical Qi Gong, and believes strongly that the change we wish to see in the world starts within.
Rates:

$160 (includes 2 beach yoga classes, 2 hour surf lesson, surf board, wetsuit, leash & more!)
If you have any questions about the workshop, please feel free to send an email to Jackie at:
jackie@yogawithlove.com