The yoga & chanting retreat I co-facilitated with musical siren, Heather Houston, on June 25th was very touching & sweet. The loving connection among the women was palpable, as we gathered together to sing warm blessings to one of the women for her 60th birthday.

Heather and I will be offering another Women's Yoga & Chanting Retreat on Saturday, October 22nd in Half Moon Bay. The first part of our day we will be practicing yoga & chanting on the beach. After a picnic lunch on the beach, we will transition to a lovely seaside yoga studio for more yoga, chanting and a delicious, organic meal by Mauro, the owner of the studio. Since our June retreat was full with a wait list, we do encourage you to register as soon as possible to be sure your space is reserved.
Where:
Beach Location will be sent via email upon registration
When:
Saturday, October 22th, 2011 ~ 9:00am to 8:00pm
Instructor:
Jackie Long Jackie Long, E-RYT is an experienced registered yoga teacher, with over 14 years of experience in the practice and application of yoga and meditation. She offers workshops and retreats locally in California and internationally. In 1999, she lived in a Buddhist Monastery in Thailand for a few months, practicing Insight Meditation with her teachers, senior monks, Ajahn Nayanarato and Tan Ajahn Gavesako. Her teachers also include Swami Vimalananda (Integral Yoga), Sarah Powers (Insight Yoga), Judith Lasater (Restorative Yoga), John Firman and Ann Gila (Transpersonal Psychology). With a Neuropsychology degree from Princeton University and a Counseling Psychology degree from the Institute of Transpersonal Psychology, Jackie bridges East-West wisdom seamlessly in each of her yoga classes.
Jackie is also a Licensed Marriage & Family Therapist and offers counseling psychology in her private practice in Los Altos. She considers it a great honor to support people on their path of relating to themselves and others more authentically.
Cost:
$150 Per Person ($180 after September 22)
Registration:
To register, please contact Jackie Long at
jackie@yogawithlove.com
Additional Information:
Please bring a bag lunch and a enjoy a picnic lunch on the beach after the first yoga class! Organic vegetarian dinner will be provided.
These pictures are from our June 25th workshop at Skyote Mt. in Santa Cruz: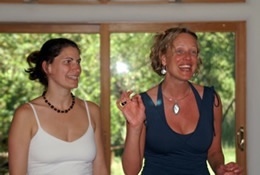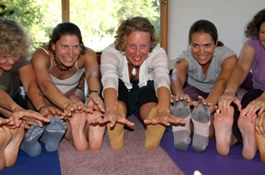 "Heather's brilliance, radiance, glow, and presence create a very inspiring and magical feeling in her circles... I loved the diversity of cultural songs, the rounds, and harmonies." - Mary, Aptos, CA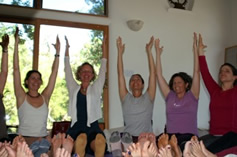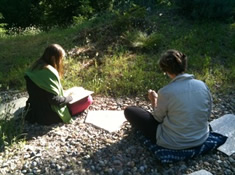 "I love how Heather encourages women to sing and share their light. I love how excited she gets when we sing. There is such an appreciation and love that her energy surrounds us with, and it helps everyone feel safe."
- Adora, Santa Cruz, CA