With Jackie Long & Heather Houston
Description
In a sweet circle of women surrounded by Redwood trees, we invite you to welcome in the New Year by nurturing your body, sharing your voice and relaxing into the love and compassion in your heart. This will be a nourishing day of yoga, singing, journaling, sharing, hiking, hot tub time and delicious, organic food.
Where:
Skyote Mountain Center
Santa Cruz Mountains
Skyote Mountain is located in the Santa Cruz Mountains just a few minutes outside of Scott's Valley. This straw bail center is all solar powered with radiant heat floors and a gorgeous, light filled yoga studio.
When:
Saturday, January 5th, 2013 ~ 9:30am to 7:30pm
Instructor:
Jackie Long &
Heather Houston
Jackie Long, E-RYT, MFT is an experienced registered yoga teacher, with over 14 years of experience in the practice and application of yoga and meditation. With a psychology degree from Princeton University and a Counseling Psychology degree from the Institute of Transpersonal Psychology, Jackie bridges East-West wisdom seamlessly in each of her yoga classes. Jackie is also a Licensed Marriage and Family Therapist and counsels adult, children and families in her private practice in Los Altos. She considers it a great honor to support people on their path of relating to themselves and others more authentically.
Heather is a unique blend of singer, songwriter, performer, conductor, teacher, therapist, and group facilitator. Currently, Heather performs, teaches private voice lessons, offers healing sessions, leads singing circles and conducts the 15 voice choir, Yala Lati. She is as gifted at leading hundreds of people in singing or chanting together harmoniously, as she is at guiding a single student in discovering the intricacies and nuances of their own voice.
Cost:
$160 (includes freshly made organic vegetarian dinner)
Registration:
To register, please contact Jackie Long at
jackie@yogawithlove.com
Directions & What to Bring:
We will email you directions and a list of what to bring as we get closer to the retreat day! We can help facilitate carpooling as well.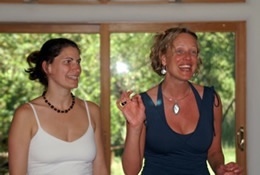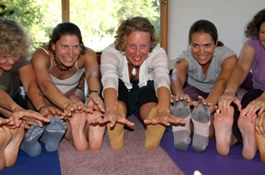 "Heather's brilliance, radiance, glow, and presence create a very inspiring and magical feeling in her circles... I loved the diversity of cultural songs, the rounds, and harmonies."
- Mary, Aptos, CA
"I love how Heather encourages women to sing and share their light. I love how excited she gets when we sing. There is such an appreciation and love that her energy surrounds us with, and it helps everyone feel safe."
- Adora, Santa Cruz, CA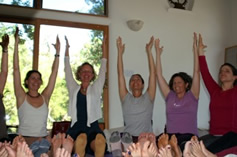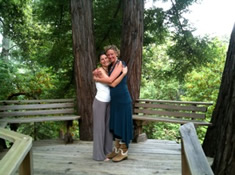 "Jackie's calming presence, her kind consideration of her student's physical and emotional well-being and the way she embodies teaching as the ultimate service all inspire me."
-Vivian, Portola Valley, CA
"Jackie's teaching brings out the light in people, and we would have a better world if everyone attended her classes!"
– Karen, Menlo Park, CA