COUPLES YOGA &
COMMUNICATION RETREAT
Deepen your connection with your loved one as you explore movement, body and breath together. Offer each other compassionate awareness as you attune yourselves to one another more consciously. No experience necessary. The yoga practice will be fairly gentle, with a few advanced options for the more adventurous at heart. Enjoy this opportunity to share the healing practice of yoga in a beautiful beach setting with your partner.
The communication skills offered throughout the weekend will benefit your relationship for years to come. When my husband and I took this communication workshop a few years ago, it truly facilitated our ability to communicate open heartedly with one another…and our communication was already pretty incredible to begin with! Further, these communication tips will not only benefit your relationship with your partner, but they transfer over for use in all relationships…with friends, co-workers, family members and especially with those challenging people in our lives!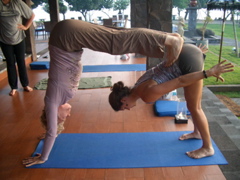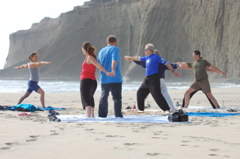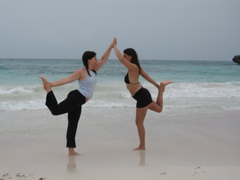 Where:
Asilomar Retreat Center
Pacific Grove, CA

When:
Friday, December 7 at 5 pm thru Sunday, December 9 at 5 pm

Instructors:
Jackie Long, Danielle Shillcock & Carol Harrington

Rates:
Lodging, food and workshop:
Historic: $360 per person
Standard: $380 per person
Registration:
To reserve a spot, please do the following:
1. Send an email to Danielle at: daniellesh@pacbell.net
Danielle will write you back with her mailing address.
2. Send a $200 deposit (non-refundable) to Danielle Shillcock

(Final payment due November 7, 2007)



If you have any questions about the retreat, please feel free to send an email to Jackie at: jackie@yogawithlove.com